Welcome:
Hello and thank you for your interest in obtaining a custom figure from Playactioncustoms.com. Typically we divide these orders into two sections (NFL/NCAA Football) & Personalized figures (high school, youth, small college, minor league). If you are interested in multiple figures then please list the information for each player or include information for each in an email that you send.

Previous Figures:
In most cases a previously made figure can be remade. It will still be one-of-a-kind in nature due to these being hand made/painted/decaled. If you'd like a quote for a specific figure then make it known by saying you want Adrian Peterson 1, vs. Adrian Peterson 15 as an example. If I have made multiple figures of a player such as Peterson in the above example if you can provide the # in the heading of the post or simply copy and paste an image into the email then that will help streamline the process. While using the exact same parts is the goal, there are times that a different head, helmet, facemask might have to be used.

NFL/NCAA:
If you are looking to have a figure of your favorite NFL or NCAA player, then please fill out the custom request form below. Over a players career a player can wear numerous uniforms, so if you have something specific in mind such as a throwback jersey, or an AFL jersey or something to reference a specific year, then please include that information. If you would like to forward images, then you can email them to
[email protected].

Personalized Figures:
This section is mostly for the following types of figures:
High School Teams

Youth League Teams (pee-wee, midget, pop warner)
Smaller College Teams (Intramural, Club)
Arena League Teams (Indoor)
Minor League Football teams.
XFL
USFL
For the most part when it comes to a personalized figure the process goes smoother when you can provide multiple images of the player/team in question. If images of the particular player are somewhat limited, but you have images of the same team, then I capture the uniform details from other players. In this particular case it's better to have too many images as opposed to not enough so feel free to send links to websites that contain the photography attach the images to an email and send it to [email protected]

This section can include NFL & NCAA figures, if you want your likeness represented as a player for one of those teams. For this, it is likely better for you to submit the form and mention that it is a personalized figure and provide the details.
Upon receiving the information you will receive a quote, or a follow up email with questions that I have prior to providing a quote.

Quote/Pricing Structure:
Quotes are good for 72 hours. I don't have a set price for any given figure.
Things that are considered when forming a quote
Base Figure

Uniform Scheme (paint/decals)

Customization, adding hair, part switches
When receiving a quote it is imperative for you to let me know whether you want to proceed due to the timing & scheduling of the work, along with the potential fluctuation of the price of the base figure (at times I have to purchase the base figure off of eBay/Amazon/etc and if the figure I quoted is no longer available then I
have to revisit the quote.
Store Front:
I'm in the process of revamping my store front so that previously made figures can be offered in the uniform of your choice to be made again (this is under construction).
Price List:
I do not have a set price list. Some base figures have a more volatile price on the secondary market/ebay/amazon/clarktoys/etc, and it is all but impossible to monitor those changes so that a price list is always up to date.
Therefore, if you are interested in Mike Webster 7 vs Mike Webster 6, as an example, simply send me a note requesting a quote on both.
Offers:
You can submit offers for any figure that has been previously made via the form in the upper right hand corner. If you'd like a different uniform then make that information known(the more specific you are the better). If the offer is acceptable, you'll receive an email and an invoice via paypal. If your offer is not acceptable you'll receive an email with the price to complete the project.
Star Player vs. Backup:
A lady once inquired about a Kyle Orton figure. I quoted the figure out to her, and her response was if Kyle Orton costs x, what do you charge for John Elway or Peyton Manning. Well in this specific case Kyle Orton, John Elway, Peyton, Manning, Jake Plummer, Brock Osweiler, Drew Lock, etc all would be priced the same if they are to be made with the same uniform and base figure.
Base figure:
This is the mcfarlane figure that the custom is made off of. When submitting a request, if you have something specific in mind, then I can quote it out for you. If you do not, then I can provide examples of various base figures. The cost of this is the biggest variable from month to month. Some base figures were made in limited supply and are more expensive on the secondary market such as ebay and the good ole Supply and Demand curve.If a customer would like to supply the base figure, then that is fine and it would simply remove that from the pricing equation.

The base figure catalog can be found here:
www.playactioncustoms.com/base-figures/
Figure Size:
All figures pictured on the site are from what McFarlane called their 6″ line. There are a handful that were created on a slightly smaller scale, but for the most part they are on the 6″ scale. The 12″ figures that I have made previously are not pictured so that there is no confusion about the size of the figure. The 12″ options can be viewed at the bottom of the base figure page.

Uniform Scheme:
Some teams have more detailed or complicated uniform designs. For example a modern Minnesota Vikings uniform has more details than say the Oakland Raiders. So teams are priced in various ranges from ones that have less details to the ones that are more complicated. Some teams have such as Oregon have extremely complicated components such as chrome/mirrored look. The uniform can be done, but the chrome/mirrored look cannot be accomplished exactly as it looks(though new options are always becoming available).
I need to know the jersey color, pants color, and helmet color (it is better if you can send an image of the uniform you'd like for the figure to capture), that always helps.
Straight Repaint:
This is when I take figure x, and turn it into player y without any modifications or part switches. This can be a player from his NFL figure in to his College uniform. An NFL player with a new team. Examples: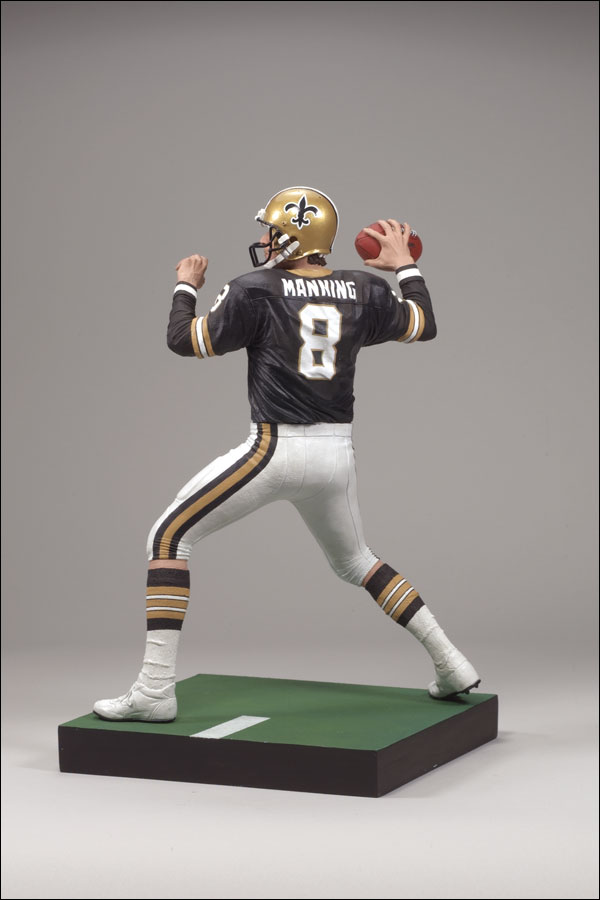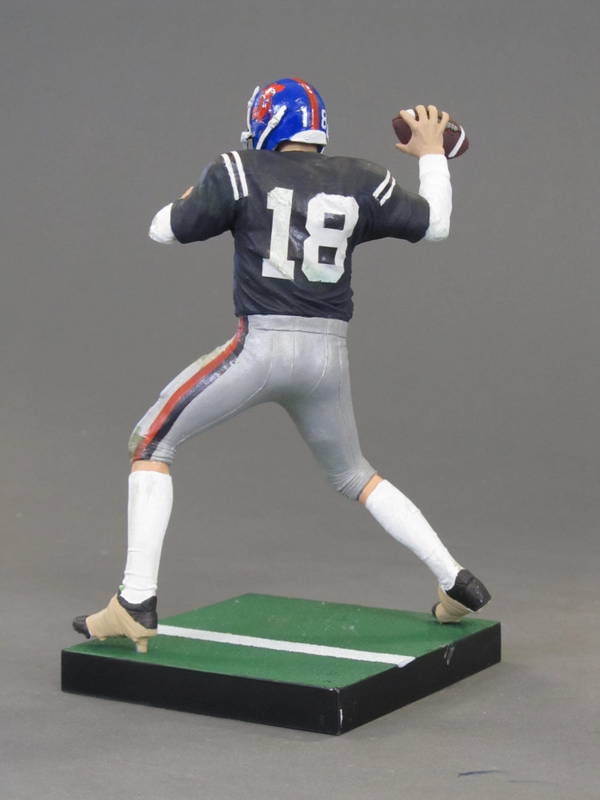 Archie Manning Saints into Archie Manning Ole Miss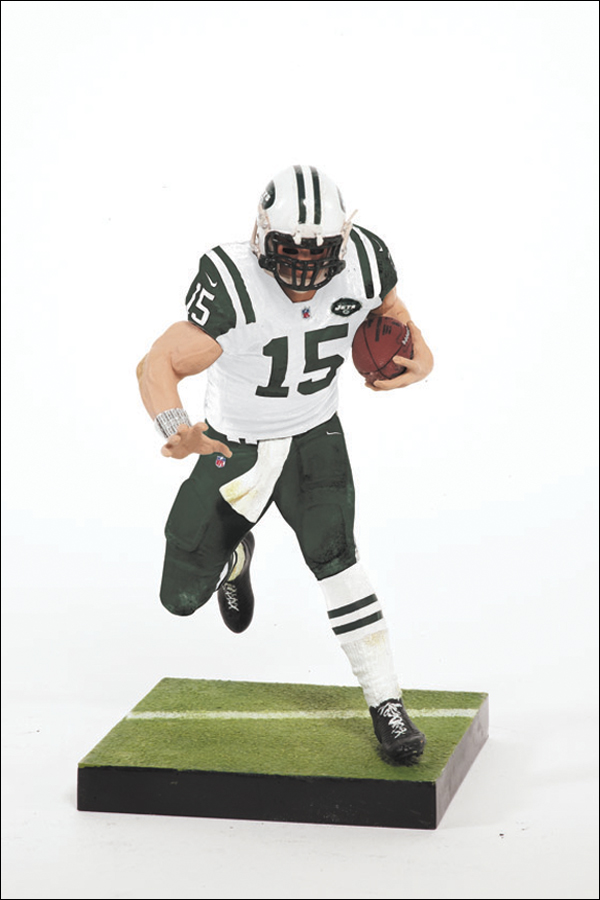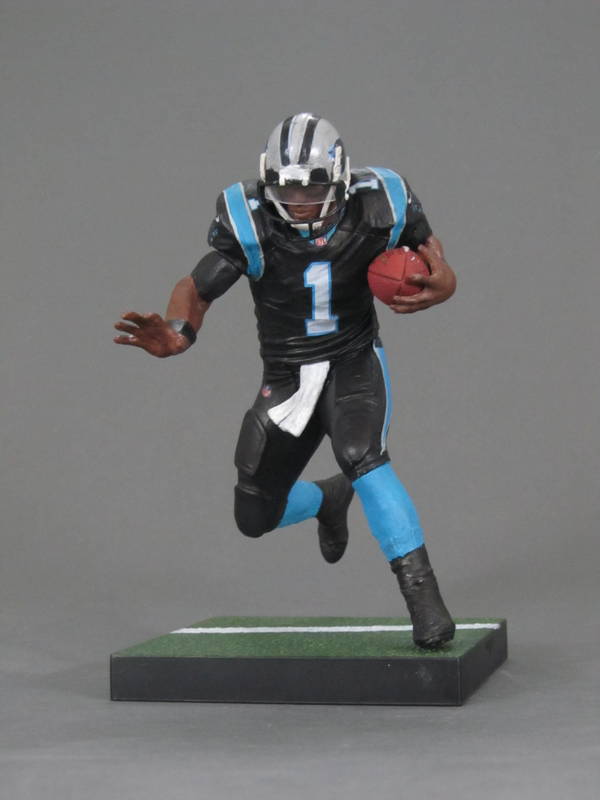 Tim Tebow into Cam Newton(though I did make a facemask switch and added the shield for Newton.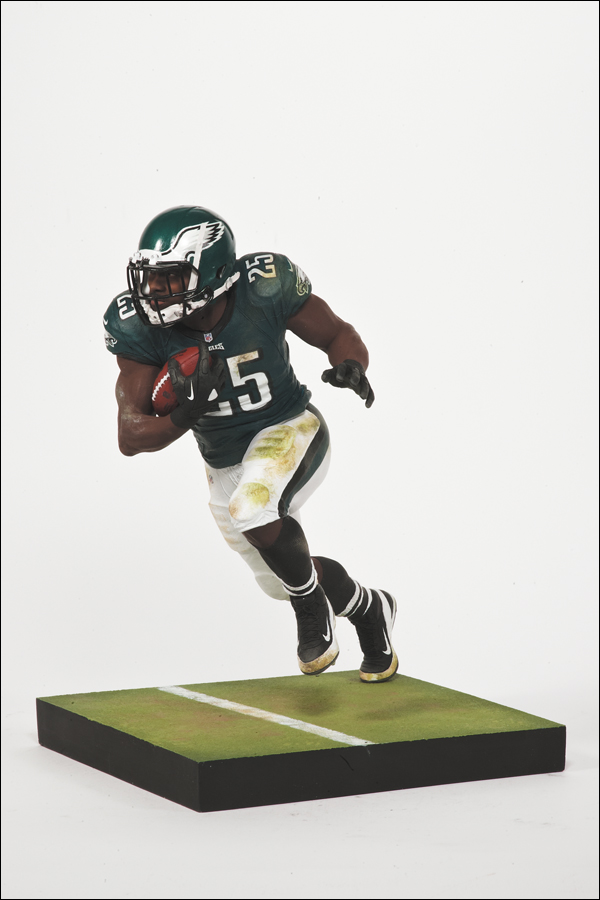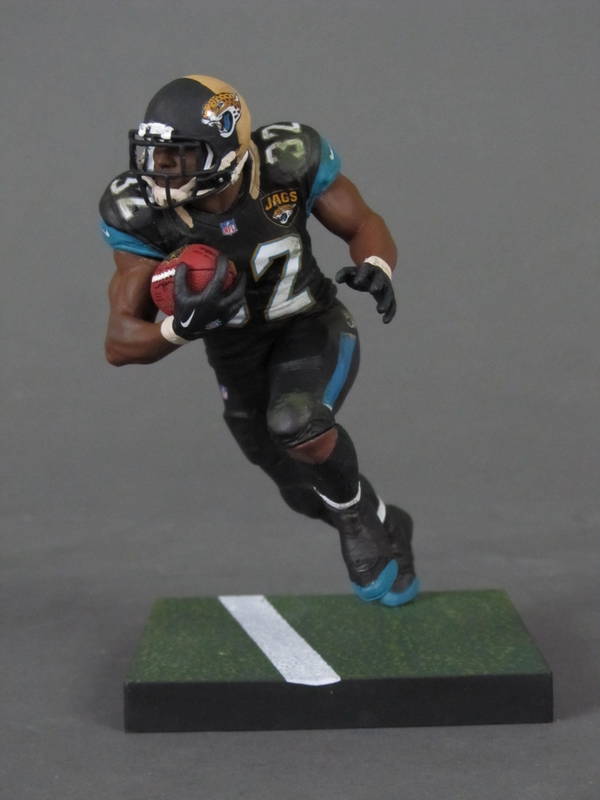 Lesean McCoy into Maurice Jones-Drew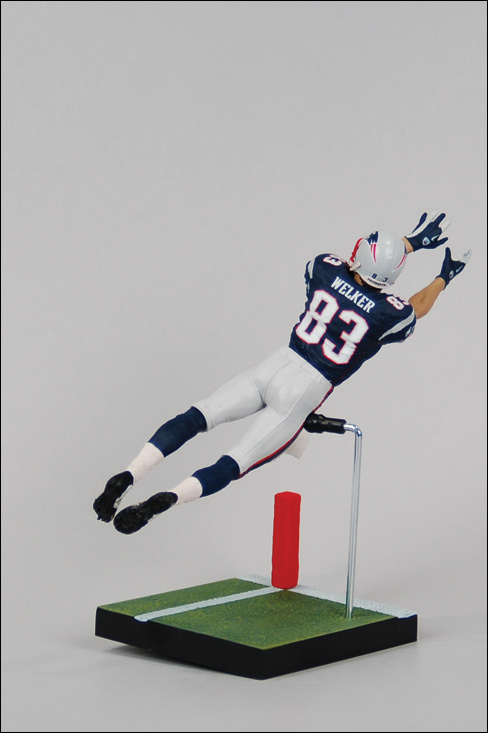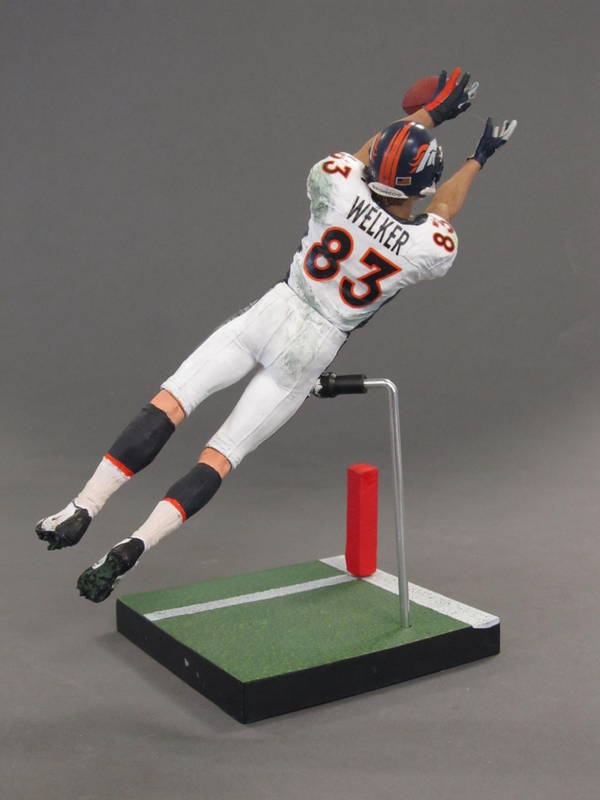 Wes Welker from his Patriots figure into his Broncos uniform.
Throwback/Alternative/Colorrush Jerseys/Uniforms

Some teams wear these on an annual basis. Some wear different throwback uniforms from year to year. In 1994, each of the NFL teams wore "throwback uniforms".Some teams do not have them. Carolina for example has worn 3 jerseys with only slight changes to the logo and the manufacturer over the year but for the most part their uniforms haven't changed much since 1995. Jacksonville who came in the same year has had numerous rebrands when it comes to their uniform.

Examples:
3rd alternative jersey: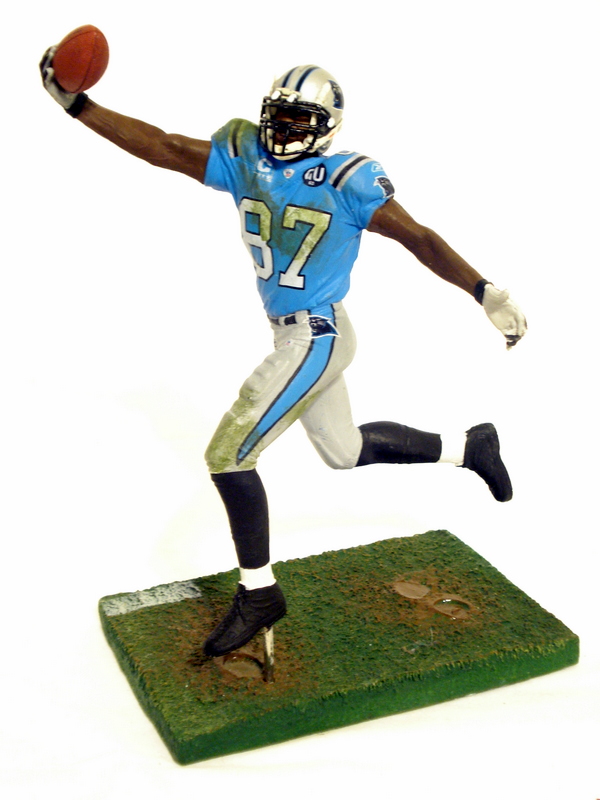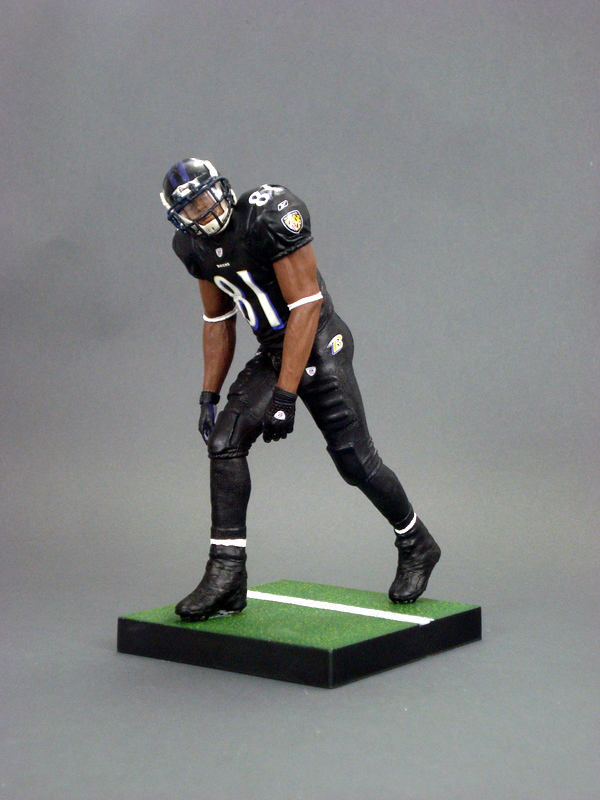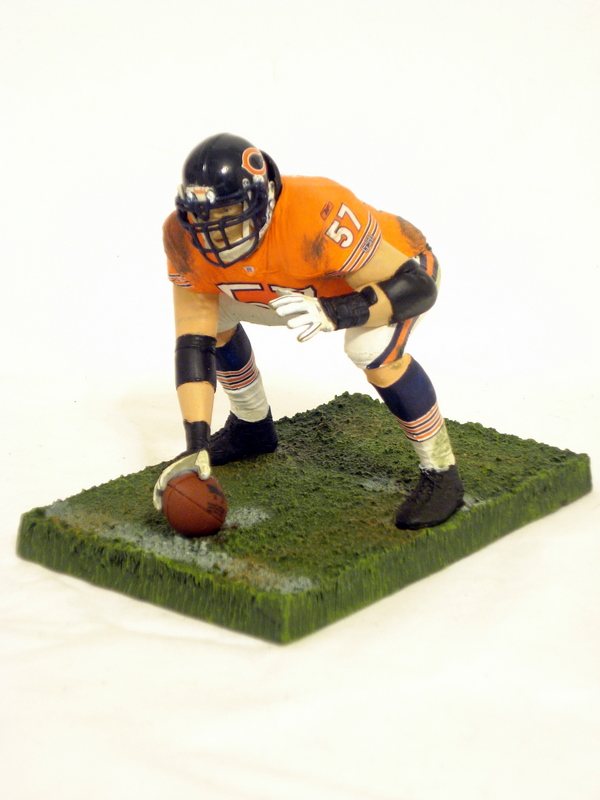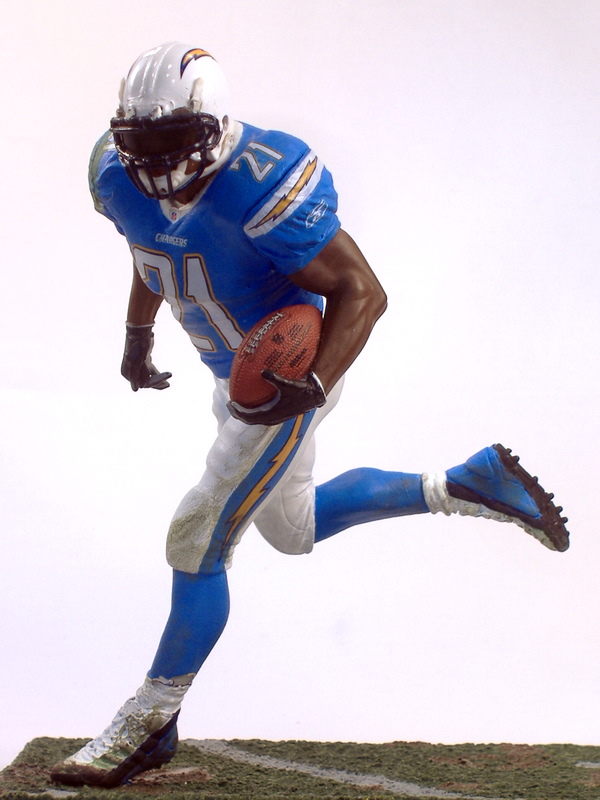 Throwback jersey: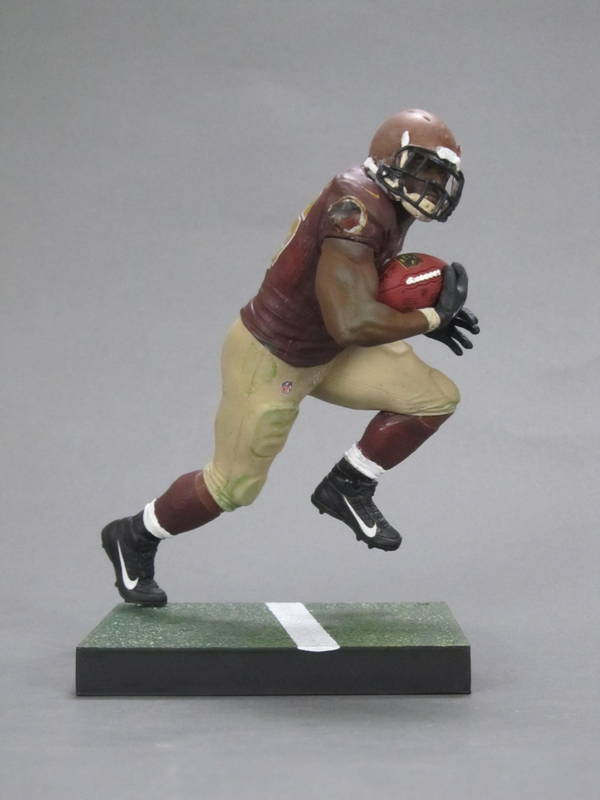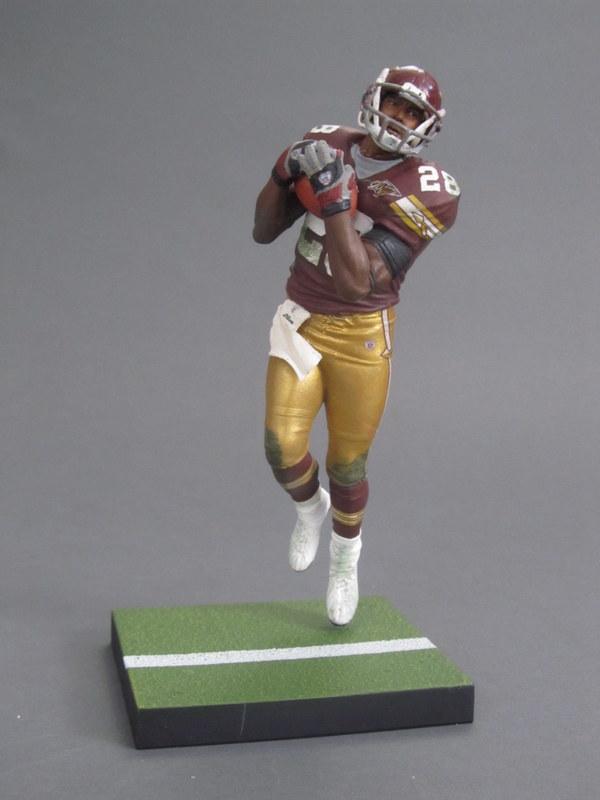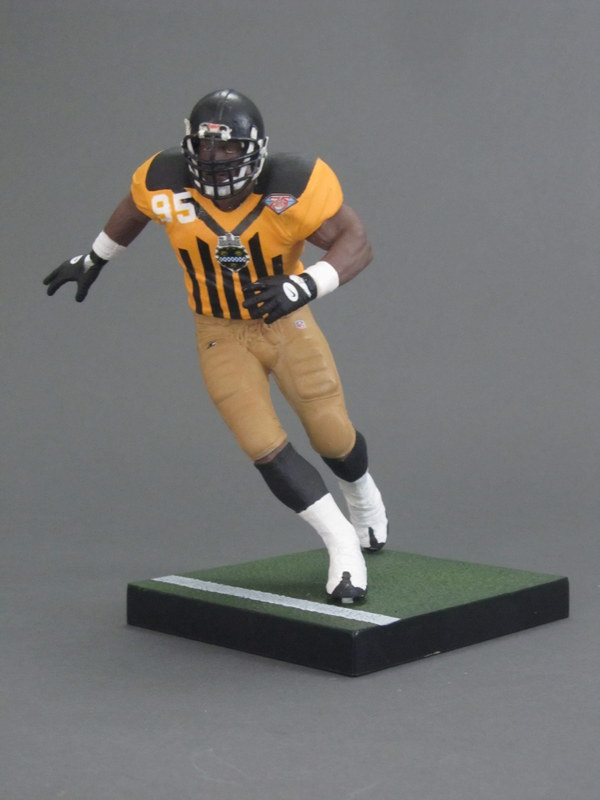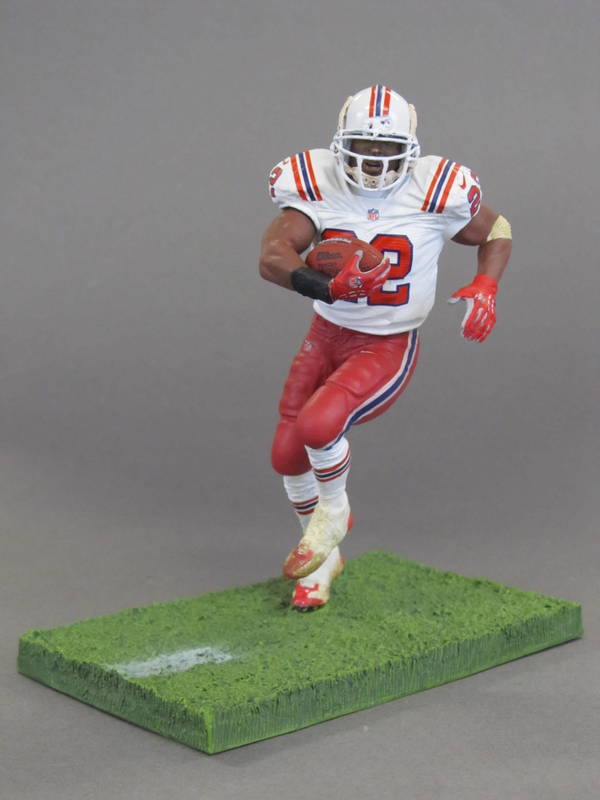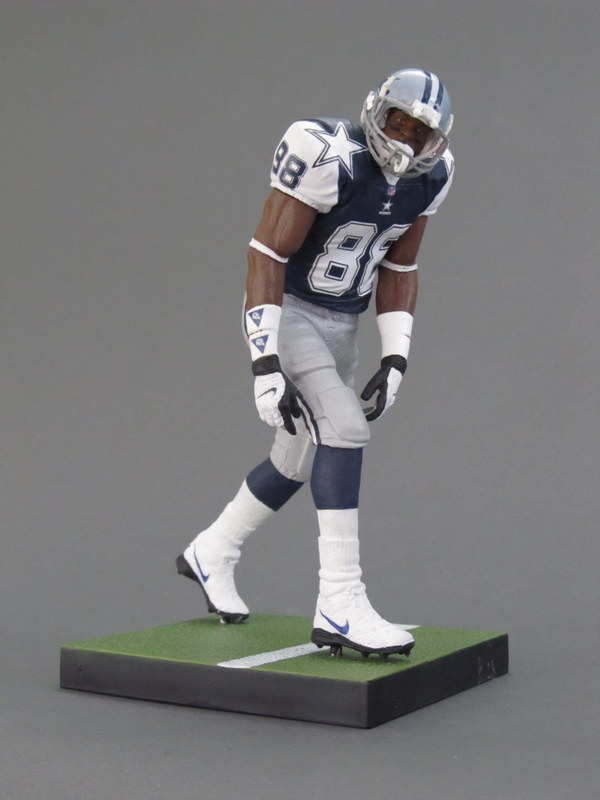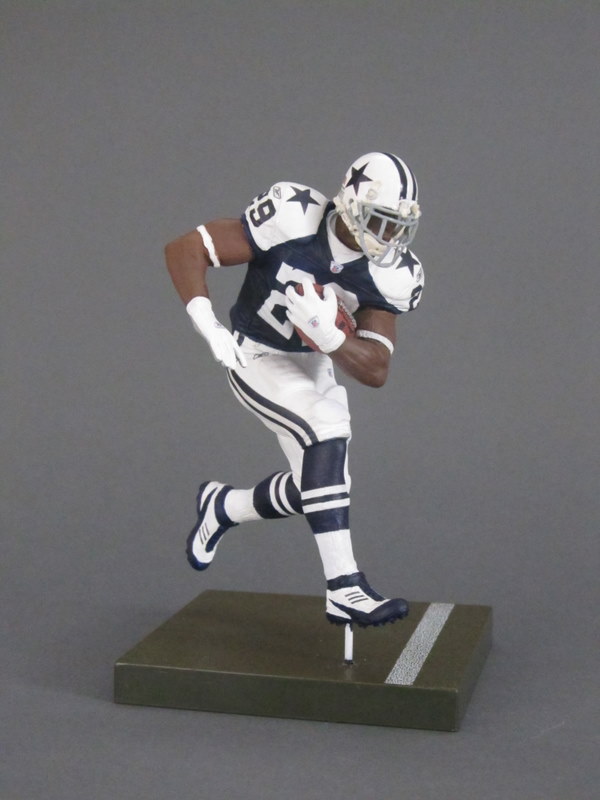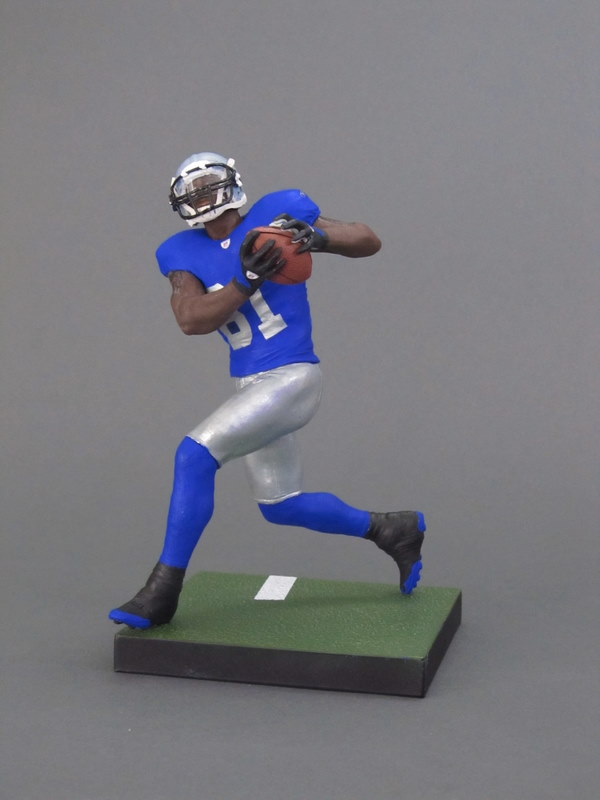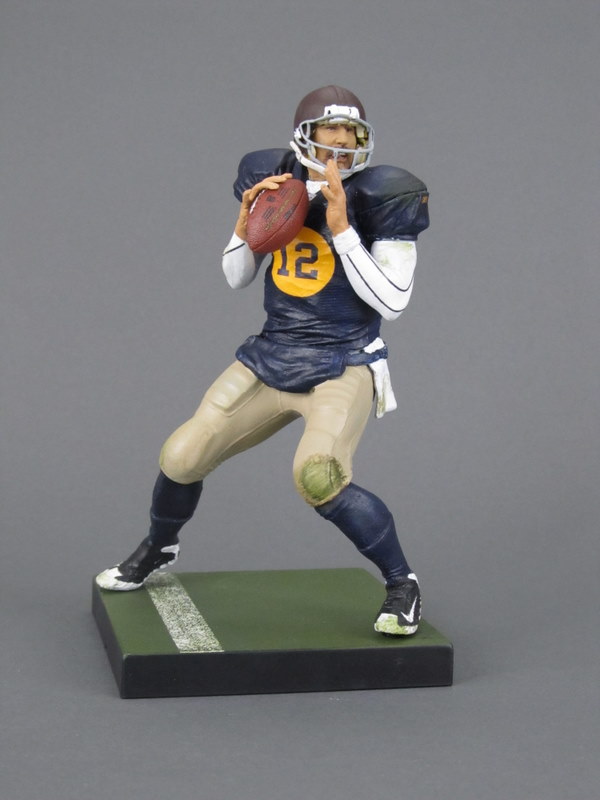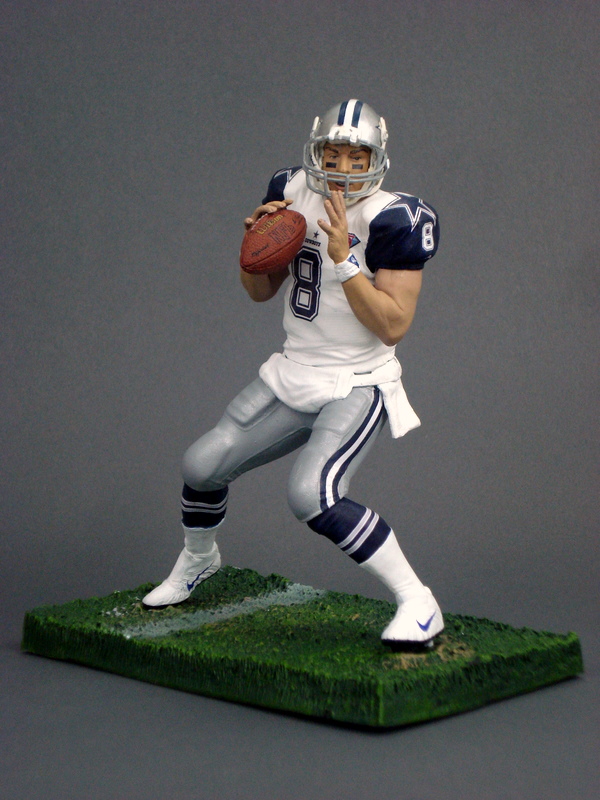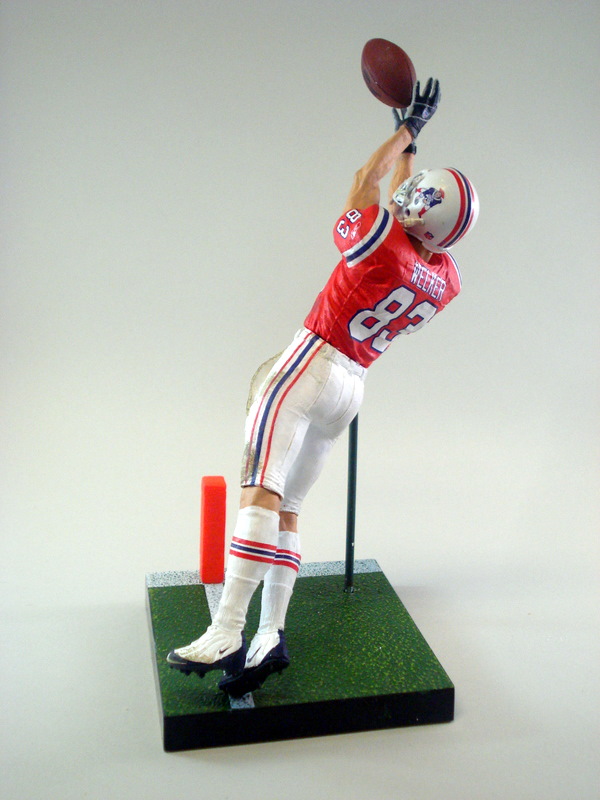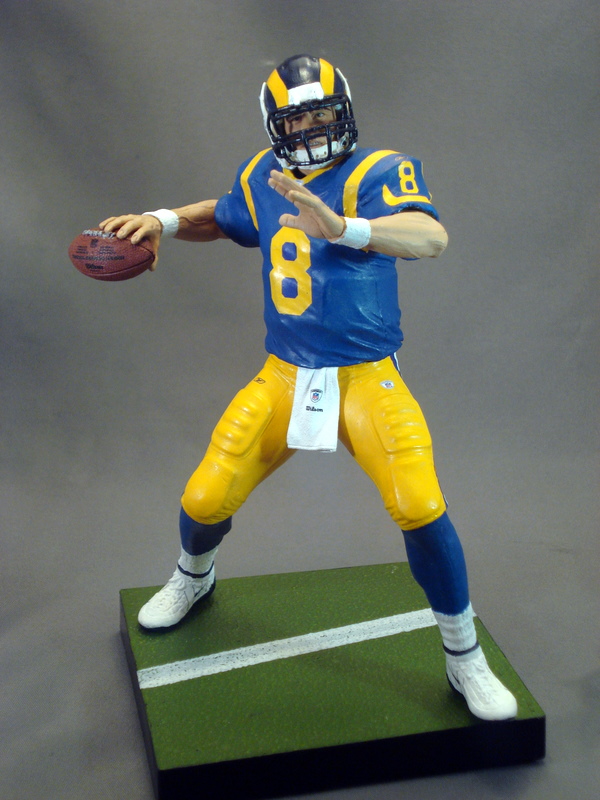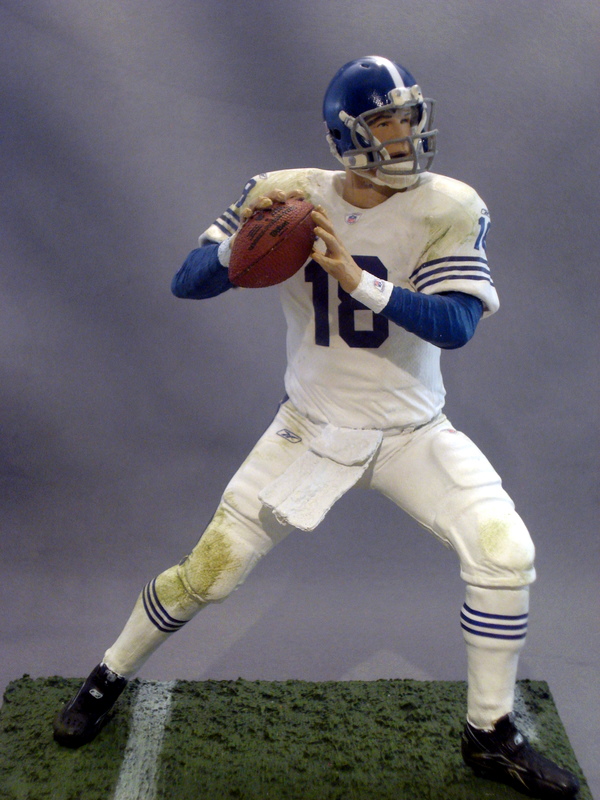 Uniform Scheme:
The best explanation for this is, the uniform that you want the figure made with. Every team has a home & away jersey. Most teams have either a 3rd alternative jersey or a throwback jersey of some sort. When it comes to college figures, the options often increase with multiple helmets and other designs. The old adage "A picture's worth 1,000 words" rings very true when it comes to various uniforms. If you can send an image of the specific uniform, you have in mind all it can do is help.

For example
Carolina now wears Black pants or Silver pants with their Black jersey. So if you have a preference please make that known.
One resource I use when it comes to the uniform schemes from year to year is:
http://www.gridiron-uniforms.com/
If you click a team it shows you the various uniform combinations the team wore in each year.

Customization:
This encompasses part switches, facemask switches(in some cases), combination figures, sculpting, shaving, putting two figures on one base, and pretty much anything that is required outside of a straight repaint. Long hair, dread locks, beards, etc can also be added to the figures, as can tattoos if you can provide high quality images of the tattoo. The quote you receive does not include any of the above items unless it is mentioned prior to the quote. So if you receive a quote for x and then later inquire about a players tattoos then they will have to be evaluated and quoted separately. Basically any small detail that you would like replicated in the custom figure needs to be brought to my attention.
Arm Switches:
This is when I use arms from another player on a base figure.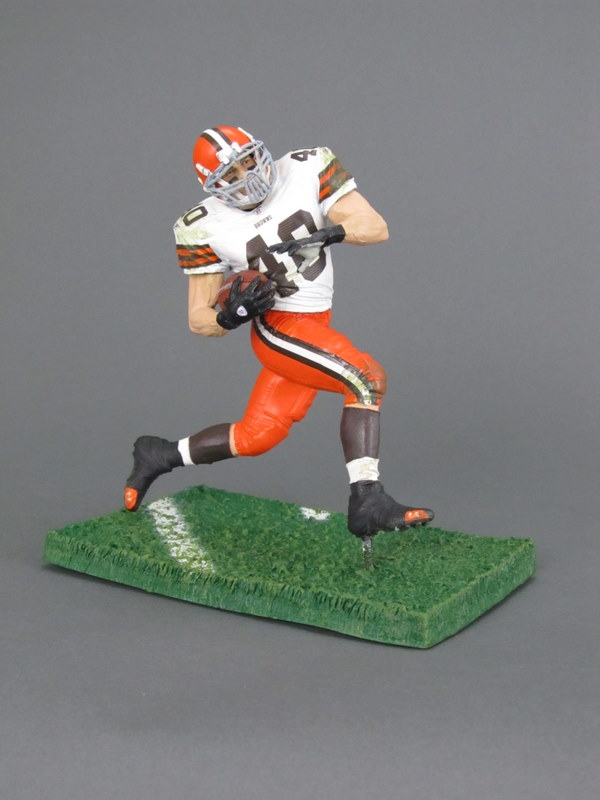 Above is an example of Shaun Alexander 2 made with different arms: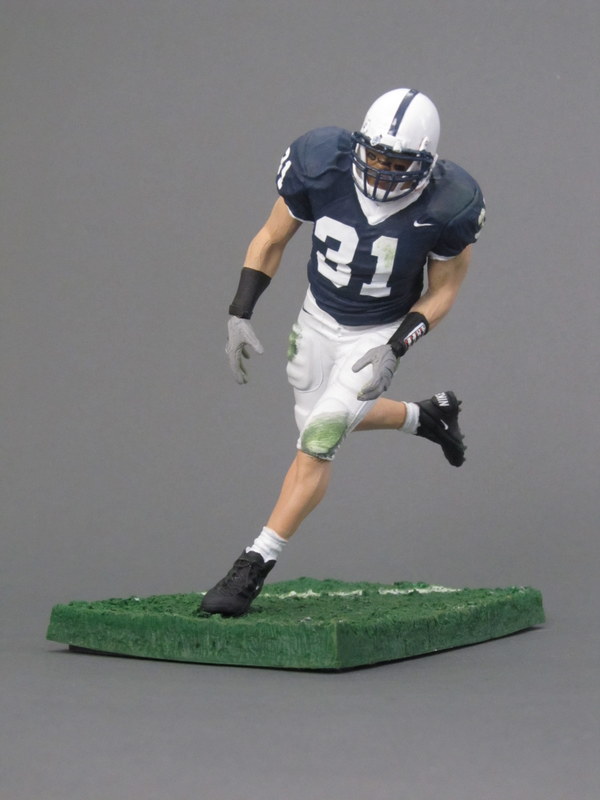 Above is an example of Priest Holmes 2, a running back made to look like a linebacker/safety with an arm switch.


Other examples: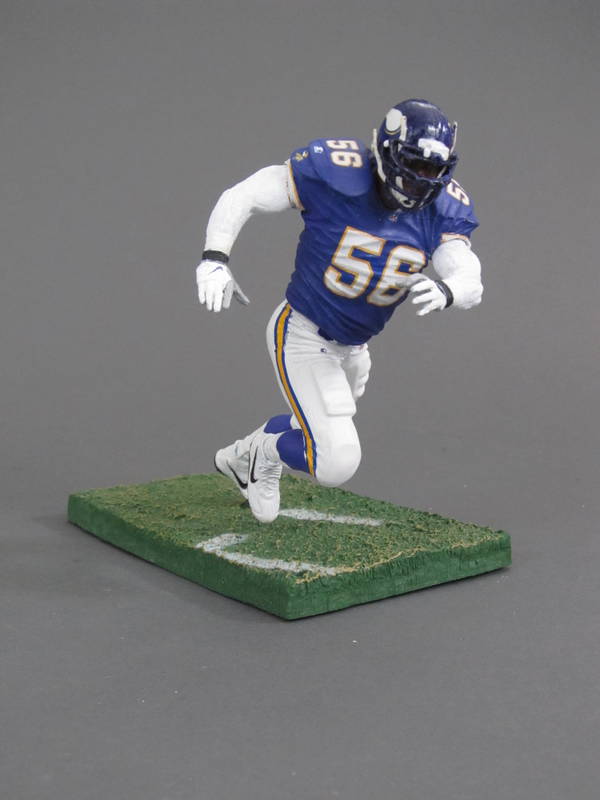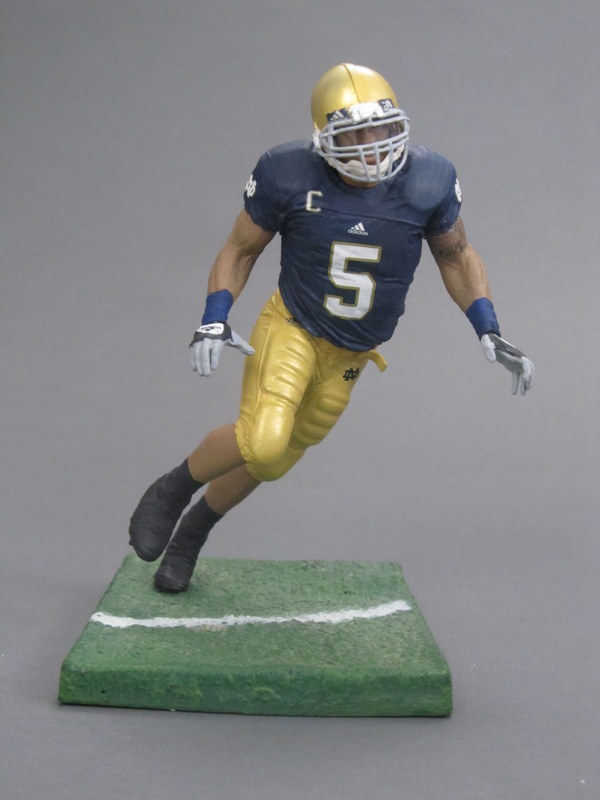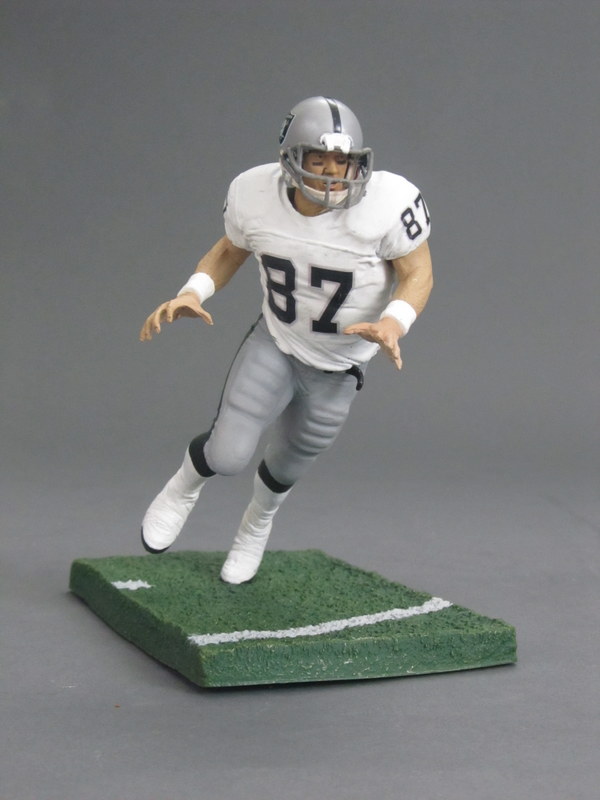 Combo Poses:
Let's call this the Dr. Frankenstein section. Sometimes I can take the torso from Figure A and the legs from figure B and they fit together smoothly. A + B =Combo Pose. Those do not happen very often.
At times there is shaving/cutting/sculpting involved to get pieces of various figures to look like they came together naturally.


Examples: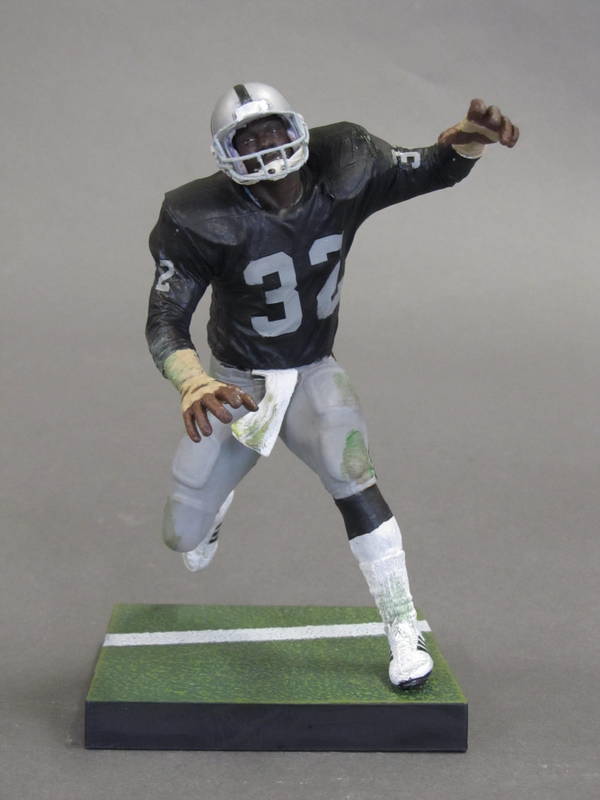 Dick Butkus top on Tim Tebow's legs.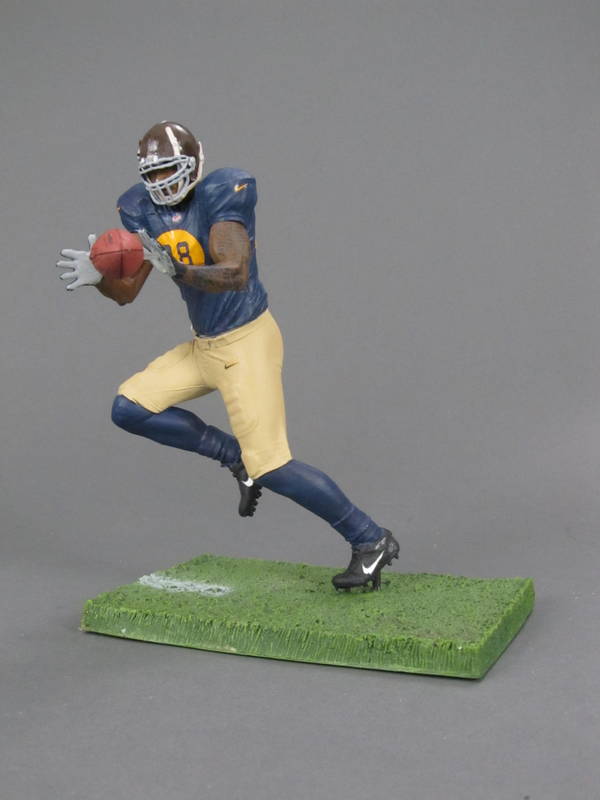 Marvin Harrison 2's top on Vince Young's legs.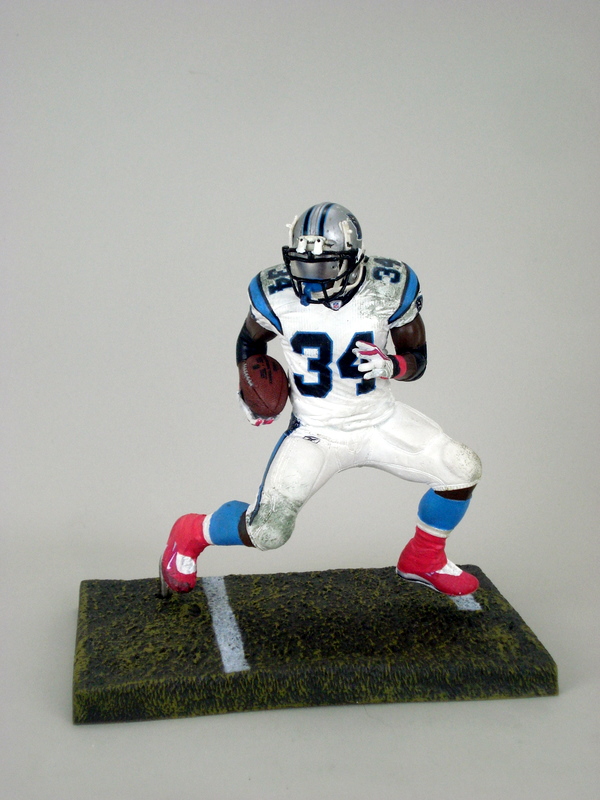 Parts from 3-4 figures went into these two.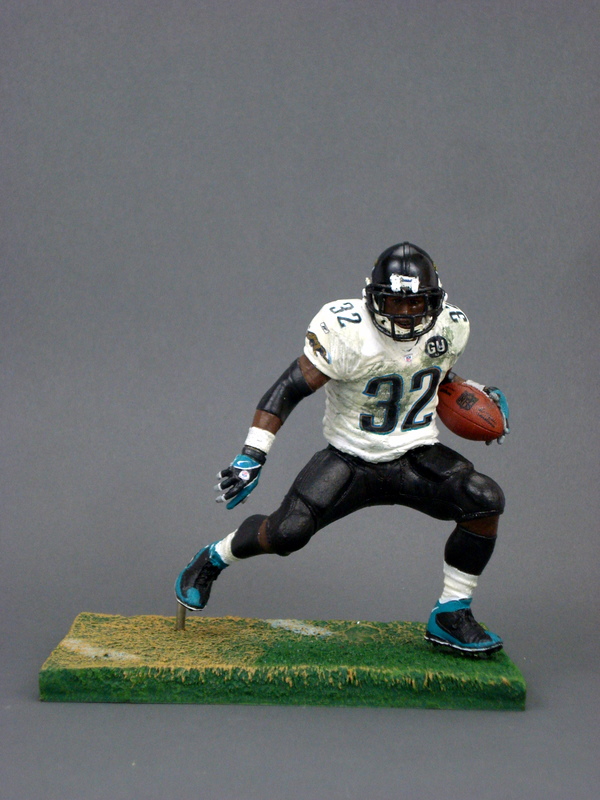 Game Specific: If you have a specific game in mind, such as a Super Bowl, or quite possibly a game you attended then if you make that known, I can attempt to review photography to try to capture the specifics of that game. Images certainly help when trying to accomplish this.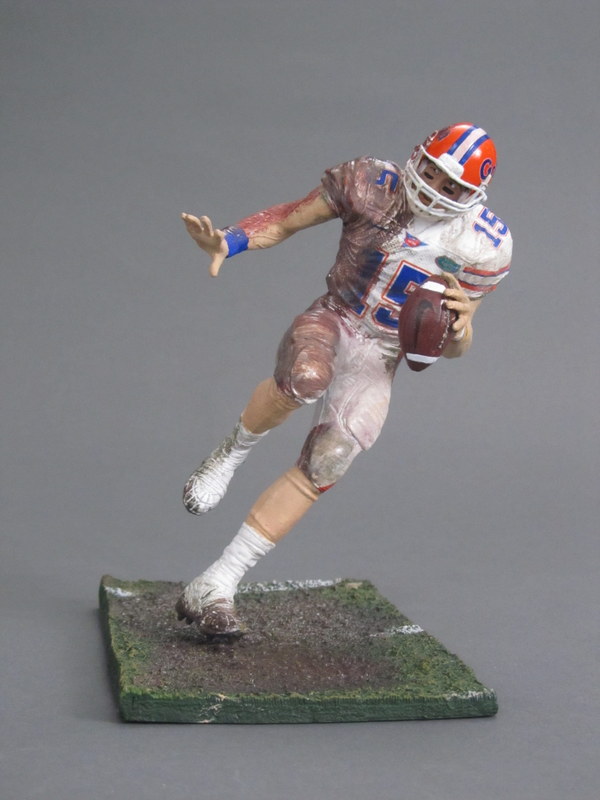 Articulation:
These action figures are not meant to be played with, moved and or adjusted. At times during the reattachment process an arm or a head has to be glued, mounted or permanently positioned, so turning a head or an arm might damage/break the figure.
Toy/Action figure vs. Trophy:
Even those these mcfarlane figures are sold in the toy sections and at stores like Toys-R-Us a custom Mcfarlane is not a toy nor an action figure. A customer bought a figure once and said that his son decided to take it into the bathtub with him. Well this ruined the decals and the paint job on the figure and he had to send it back to have it redone and now the figure sits on his book shelf with his T-ball trophy.
Used figure:
This comes from ebay. I once listed a figure that I created an insert/package, and the buyer had an issue claiming it was not real because it wasn't sealed. He seemed to ignore the multiple uses of the word custom, after discussing the matter with
ebay, I have since listed each of the customs on ebay as "used", since they aren't "new in a box". The custom figure itself
isn't used, or in used shape as if it were to be compared to a catcher's mitt, it is simply not "new".
Custom Packaging:
Custom packaging is no longer available. If you see a figure that has it, please note that it was previously made and not available via a future purchase.

Gifts/Birthday/Holidays/etc
If a figure is needed by a special date, i.e. Birthday/Christmas/Anniversary, then that date has to be provided up front, discussed and agreed to prior to purchase. I can attempt to accommodate it after the fact, but you can't inform me that a previously purchased item is a Christmas present on 12/12, or a week before a birthday. Also review the cancellation and return policy found here.

Shipping & Handling:
The custom figures are shipped with insurance and I typically use priority mail. International Orders: I will ship to wherever. What I normally do will gather quotes from USPS, UPS, & Fed Ex and let the customer select the service. When a figure shipped with insurance the USPS may require a signature. If the figure is returned to me because it was never picked up at the post office, a reshipment fee of $15.00 will be required.
For International orders, the buyer is responsible for any and all tariffs, taxes or charges levied by THEIR government and/or additional costs of an item having to be shipped more than once.
That above is pertinent to international orders placed prior to 4/5/21. As of 4/6/21 I am no longer accepting International Orders.

Payment information:
Due to the one-of-a-kind nature of each individual project payment is required upfront. In the case of a larger orders(5+) a 50% deposit can be placed and the remaining balance is due after you have reviewed the final photography. Once the balance is paid, the figures will be shipped out.
If the larger order involves a personalized figure, then this is unfortunately not an option.
Paypal:

I do accept PayPal payments and I will set up the invoice which includes all the imperative details for the project.
Money Order/Checks as a Payment Method:
I can accept a money order or check however I do wait for the funds to clear my bank prior before purchasing the base figure and/or materials needed.
International Orders:
The customer is responsible for any and all customs chargers/taxes or tariffs that your
country may charge. If that is refused, the customer is responsible for any return fees
and the reshipment of the item.

Cancellation & Return Policy:
Due to the one-of-a-kind nature of these hand painted custom made items these
items cannot be cancelled at any point in time for any reason. More information can be found here:
Unauthorized Email:
It was brought to my attention that someone created this email address on 2/26/18

.
I do not own it, am not associated with it, and am attempting to have it closed.
Please let me know if you have any questions.
The artist reserves the right to make any artistic corrections and or changes, that will help expedite an order if and only if the need arises, such as uniform and base figure selection.
Thanks again,
Playactioncustoms.com